I never want to hear that a single person can't make a difference in someone's life.  If you haven't already followed this story…a man was captured on camera dancing.  The photos were posted (below) along with the caption, "Saw this specimen trying to dance the other week.  He stopped when he saw us laughing."
Fortunately, a woman named Cassandra Fairbanks saw the photos on social media and began a campaign to find the man and invite him to a party thrown just for him.  The party and campaign gained steam.  A GoFundMe has raised just under $40,000 for the party within four days.  The LA Memorial Coliseum offered of their venue to host the party.  Singer Pharrell Williams has offered to perform at the party.  Moby has also offered to DJ the party.  The man was found in the UK and has been identified as "Sean."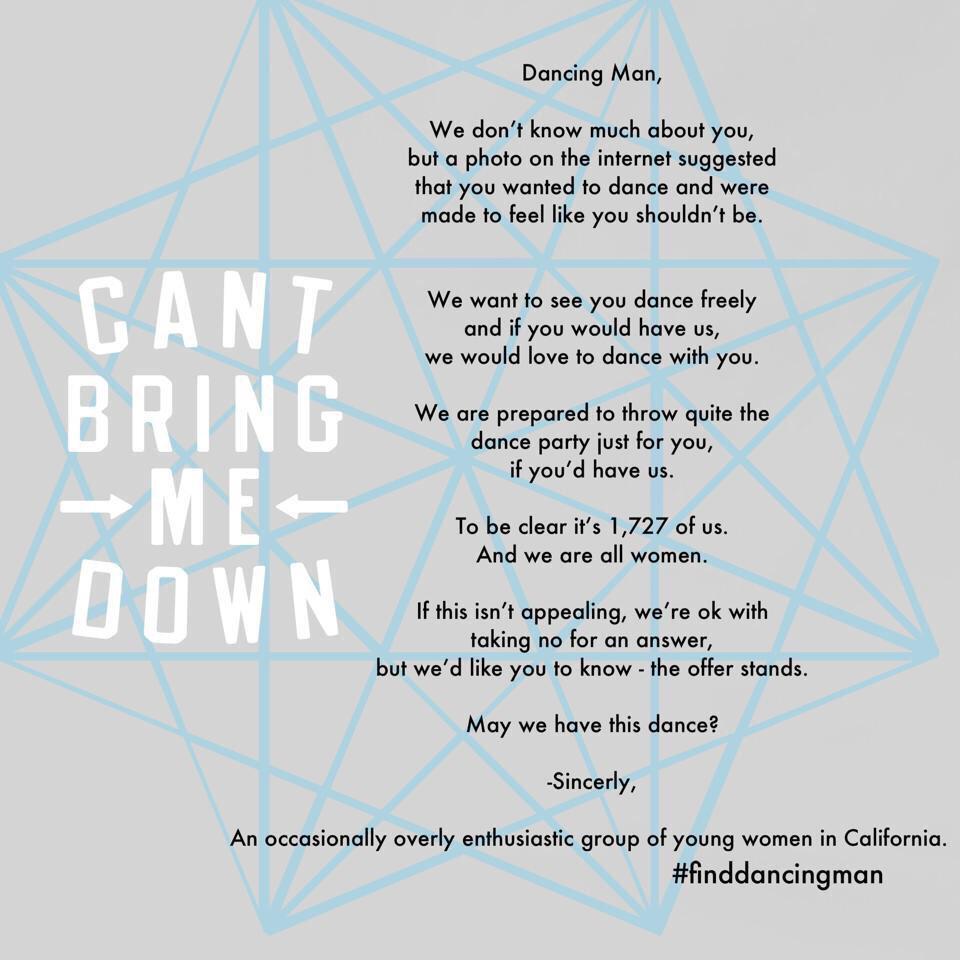 Ms. Fairbanks and her desire to help this man she didn't know may have changed his life.  He said that the day this went viral "was the best day of his life."  Look again at the man's face in the second photo.  That image captures a person who is feeling intense shame.  He was trying to enjoy himself and dance when a group of people took that from him.
What is it in a person that makes them shame someone who is enjoying himself and dancing?  Was this person that miserable in his/her own life that they couldn't just dance along with him?
I've seen and heard people shame others for various reasons, but quite often because of weight or obesity.  I've seen people open their car windows and yell at an overweight person.  I've heard them comment loudly about an overweight person at a restaurant.  Then I look at the person and all I can see is someone eating and laughing with their family.
The television show What Would You Do conducted a couple of trials to see how people would react if they witnessed an overweight person being shamed in public.
The question persists…what would you do if you saw this?  Would you walk on by?  Would you ignore it?  Would you scroll past it shaking your head?  Or would you be like Cassandra Fairbanks and do something to try to make that person's life just a little better?  As she said, ""I hope people realize how easy it is to do something good. I didn't even leave my couch and look at what happened."